TECHNIQUES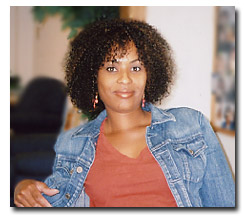 Hair extensions can give you that instant length, volume and color. When applied correctly your hair extensions can look glamorous and natural. Using the best quality in 100% human hair extensions that matches your natural hair color and texture enhances your hairstyle. Be sure to find a salon that specializes in the hair extension technique that you are interested in. Not all techniques work for every one. We recommend that you should consult with an experienced stylist to determine the best technique for you. We work closely with a variety of reputable stylist and are always glad to refer our customers to stylist and braiders that have experience working with our hair extensions. Below are some of the more popular techniques for applying human hair extensions.
WEAVING
The natural hair is corn rowed. Using a needle and thread, the hair extensions is then sewn on to the cornrows by means of the weft.
| | |
| --- | --- |
| STRAND-BY-STRAND OR FUSION | BRAIDING |
| | |
| --- | --- |
| This technique is where special adhesives are used to attach loose strands of human hair to your natural hair. This gives you a more natural look, less bulky and style versatility. You will have natural hair extensions with movement and bounce and that can be worn in an up-do. | This technique requires braiding loose/bulk hair to the root of your own natural hair. There are various braiding techniques such as pinch braids, twist, cornrow, invisible braid, rope braid, locks, single braids etc. |
BONDING
Track or wefted hair extensions are applied with a special type of hair glue. This is a temporary weaving method used to add color, volume or length.
NET WEAVING
A thin breathable net is used as a flat surface onto which the hair is weaved onto. It gives the client a flat and smooth looking weave. This technique is a recommended technique for thinning hair and hair with bald spots.
Our custom-made clip ons can be made to blend with your natural hair texture and color or used to create a streaked or highlighted look. Use clip ons to create length, thickness or body instantly. This is a quicker and affordable way of applying your hair extensions by yourself or by going to a salon. This technique requires clips to be sewn onto wefted hair extensions, which is then snapped into your hair. It can be placed in and taken out in minutes.

Add Vibrant colors, striking or subtle highlights or lowlights all without harmful chemicals. Transform thin, limp hair to thick, glamorous hair as well as add length. Affordable lightweight and easy to use.

Ponytails are the easiest way change your hairstyle in a matter of minutes, especially in between your salon visit, weaves or for a quick elegant look for an occasion. You can also use ponytails to add length or spark to your hairstyle. Pampered Hair Haven Ponytails are long lasting, washable, have styling capacity and can be custom made to match the texture and color of your own hair.
PAMPERING YOUR HAIR EXTENSIONS
To maintain your hair extensions in the best possible condition, it is important that you follow these steps on caring for them.
1. Keep your hair clean, accumulation of dirt, sweat and too much hair products can create a build up which can lead your hair extensions to tangle or mat up.

2. Before washing brush or comb through your hair extensions. Wash hair in one direction with shampoo and apply conditioner.

3. Never sleep with wet hair. Make sure your hair is dried completely, either left to air dry or blow- dried. Tie longer length hair in a ponytail or make big braids before going to bed.

4. Brush your hair extensions daily starting from the bottom and work up gradually to the top. If you are wearing a strand-by-strand technique, run your fingers through your hair from time to time to keep the bonds separated.

5. Do not tug or brush your hair harshly as this could weaken the bonds and always hold the hair while brushing to avoid tension on the roots.

6. Always wear a cap when swimming to prevent exposure to chlorine or salt water and wash your hair immediately after swimming.

7. Wet your wavy & curly textures with water, apply some leave-in conditioner towel dry and scrunch to achieve the wave pattern.

8. Do not attempt to color your own hair extensions. Head to a salon for this procedure.

9. Avoid using hair care products containing alcohol.

10. Purchase the appropriate products recommended by Pampered Hair Haven and your stylist for maintaining your hair extensions.